Tom And Jerry In War Of The Whiskers PS2 Rom is an exhilarating fighting game for the PlayStation 2, developed by VIS Entertainment and published by NewKidCo. It made its debut in 2002, presenting a thrilling twist on the timeless rivalry between the iconic cat and mouse duo, Tom and Jerry. Players can engage in intense battles across various locations while taking control of these beloved characters.
Table of Contents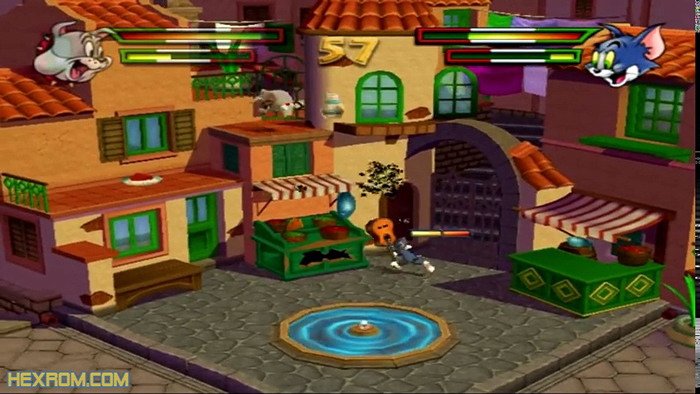 How To Install Tom And Jerry In War Of The Whiskers PS2 Rom?
Download and install PS2 Bios or PS2 Emulator
Download the game and unzip it
Run emulator and import Rom files.
For More Info Watch: How To Install PS2 Bios?
Play Tom And Jerry In War Of The Whiskers Now on Your iPhone/Android Smartphone or other compatible device with PS2 Bios or PS2 Emulator
Tom And Jerry In War Of The Whiskers PS2 Rom Overview
Frenzied Combat
The heart of the game lies in its frenzied combat system, which empowers players to command an extensive roster of Tom and Jerry characters. Each character possesses distinct moves, abilities, and attacks, allowing for endless possibilities in terms of playstyles. The controls are designed to be user-friendly, enabling players of all skill levels to swiftly jump into the action.
Multiplayer Mayhem
A standout feature of War of the Whiskers is its multiplayer mode, serving as a hallmark of the game. This mode facilitates local gatherings among friends for exciting head-to-head battles—up to four players can participate, infusing even more chaos and laughter into an already exhilarating gameplay experience. The multiplayer arena offers a variety of match types, including team-based and free-for-all modes, enriching the multiplayer realm.
Interactive Environments
The game's environments transcend static backgrounds, transforming into interactive arenas brimming with hazards and items that players can strategically wield in combat. Interactive elements, such as pies or explosives, introduce an additional layer of strategy to each battle.
Storyline
This feature offers insights into the motivations behind the characters' actions and drives the narratives within the fictional world.
Centered around an underground fighting tournament known as the "Whiskers Tournament," this storyline revolves around Tom, Jerry, and other characters from the series. They compete for the championship title and ultimate victory, igniting an engaging clash of personalities within the realm of Tom and Jerry characters.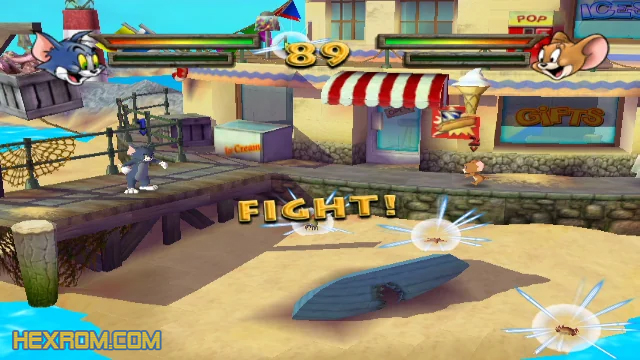 Characters
The game offers a vibrant array of characters, each equipped with a unique fighting style and special moves. Players can opt to control either Tom or Jerry, or they can select from a diverse lineup of characters such as Spike, Butch, Duckling, and Lion, fostering shared adventures through these animated worlds.
Graphics and Sound
War of the Whiskers features a vibrant and humorous art style reminiscent of the original Tom and Jerry cartoons—a treat for fans who appreciate its faithful reproduction. The attention to detail shines through in both character designs and environments. The game's sound design incorporates cartoon sound effects and comedic voiceovers, further enhancing the engaging comedic atmosphere.
Download Tom And Jerry In War Of The Whiskers PS2 Rom (ISO)
In summary, Tom and Jerry: War of the Whiskers on the PS2 seamlessly blends nostalgic elements with high-octane action, delivering hours of enjoyment to players of all ages. With its diverse character roster, interactive settings, and intuitive gameplay, War of the Whiskers guarantees endless entertainment for both ardent followers of the classic cartoon series and those seeking an electrifying fighting game experience!