New Super Mario Bros 2 Rom is a 2D side-scrolling platform video game. This is the second installment in the New Super Mario Bros franchise developed by Nintendo EAD Group and published for Nintendo 3DS ROMs and handheld game consoles.
Table of Contents
Introduce New Super Mario Bros 2 Rom
Gameplay and Controls
New Super Mario Bros. 2 looks a lot like Super Mario 3D Land Rom. It has Raccoon Mario, P-Meter, Koopalings, and all the other characters introduced in Super Mario Bros. 3. The game's primary focus is collecting coins. To help the player reach their goal, there are many new items, including the Gold Flower that turns Mario into Gold Mario.
Plot & Story
Bowser kidnapped Princess Peach once again. However, Mario has a new goal. The Mushroom Kingdom's gold coins are more plentiful than ever. Every level is filled with gold coins. Overhead pipes drop coins, gold trails are left behind by special gold enemies, and Mario can be transported into coin-filled caverns via gold pipes. It is up to the players to collect all coins during their adventure.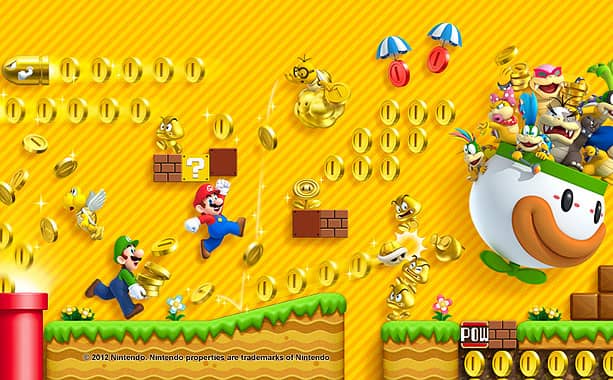 Download New Super Mario Bros 2 3DS Rom
New Super Mario Bros 2 Rom is a game that focuses heavily on collecting coins made of gold. It features a variety of new items designed to make large quantities. These include Gold Flowers which can transform blocks into money, rings that temporarily turn enemies to gold, and a block mask that produces coins when Mario (or Luigi!) is running. All coins collected can be viewed on the title screen as well as on the world map. If SpotPass has been enabled, the total can then be uploaded to Nintendo Network. This will update the player with the total amount of coins collected worldwide.