Metroid Prime Federation Force Rom is a cooperative first-person shooting video game developed by Next Level Games for the Nintendo 3DS.
Table of Contents
What is Metroid Prime: Federation Force Rom?
Following the events of Metroid Prime 3 Corruption (2007) players will play the role of Galactic Federation Marines, who are trying to stop the Space Pirates from continuing to advance after Samus Aran has eradicated the deadly Phazon mutagen.
The gameplay has a stronger emphasis on shooting mechanics, and multiplayer, much like its handheld predecessor Metroid Fusion Rom. However, there is cooperation, instead of competition. It also has a soccer-based mode called Metroid Premier: Blastball.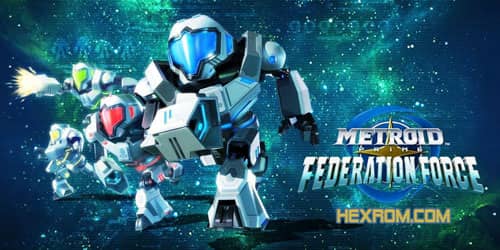 The galaxy isn't at peace!
The Galactic Federation and Space Pirates are still at war. You can join the Federation Force to form a four-player squad for this online or local sci-fi shooter. Your Mech will help you defeat the Space Pirate menace.
Conclusion
Metroid Prime, Federation Force for Nintendo 3DS is your chance to get into the next installment of a well-known video game. Either fight alone against the Space Pirates or join friends for multiplayer fun. Metroid Prime – Federation Force for Nintendo 3DS uses both the gyroscope & c-stick to offer dual-analog stick support as well as comfortable control.