Mario Kart Double Dash Rom is a racing GameCube Rom and the fourth Mario Kart video game and the only Mario Kart GameCube title published by Nintendo.
Table of Contents
Mario Kart Double Dash GameCube Rom Full Overview
Mario Kart: Double Dash! Rom While the game's original gameplay elements remains, including the ability to select Super Mario characters to use items to determine the race's outcome,! introduces an entirely new feature: two-person karts. This allows one character to drive and the other to use items. If necessary, they can swap places. If they have to swap positions, or if they get a double-item item box, The game introduces several karts in each weight class. This feature will be carried over to future Mario Kart installments.
Gameplay
The gameplay of Mario Kart Double Dash is quite different from and improved on its predecessors in many respects. Since the player can pick not just one character but two, one to drive and another to use, Items.
Characters
A cast of Nintendo characters is available for players to choose from. They are split into light, middle, and heavyweight classes. The player can choose which karts are allowed to be ridden and what special items they will receive based on their character choice. Double Dash! Double Dash! Mario Kart Double Dash was created because of the team mechanic. Includes 20 playable characters. There are 9 returning characters and 11 brand-new players. This Mario Kart video game has more playable characters than its race courses. There are three classes of characters based on their weight: Medium, Light and Heavy, and also eight default and two unlockable team options.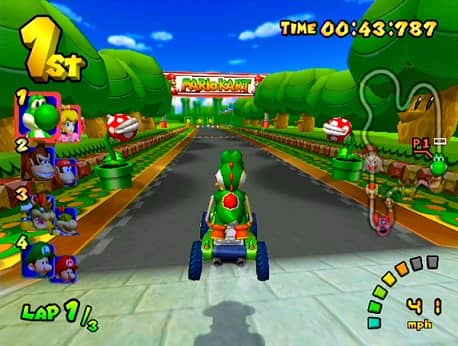 Teams
A total of ten teams can be created and twenty characters can be added to any other. This allows for 190 combinations. Pressing the L Button, and R Button, and then selecting any character will give you a random set of characters and a randomly chosen kart. It randomly selects the character and kart of everyone in multiplayer mode.