Ben 10: Omniverse ROM for Nintendo 3DS Roms Emulator. Ben 10 Omniverse is based on the new series from Ben 10, the world-famous Ben 10 franchise.
Table of Contents

Ben 10: Omniverse Plot
The exciting Omniverse world will be explored by players in a brand-new action game. Ben discovers that events from the past have an untold effect on the present. In an epic storyline that spans two periods of time, play as Teen Ben or Young Ben. Rook will help you defeat Malware's evil plans. You can dial up 13 alien heroes, including Gravattack and Shocksquatch. Then fight in 7 exciting levels throughout Undertown and other show-inspired locations.
Summary Story
After Kevin and Gwen left to go to college, Ben was ready to solo his Omnitrix, but Grandpa Max brought in a new partner, a rookie by-the-book partner. They explore an alien city called Undertown under the city of Bellwood. A mysterious hunter known as Khyber sets his sights on Ben. The fun just begins with all the new alien heroes! It's an entirely new Omniverse!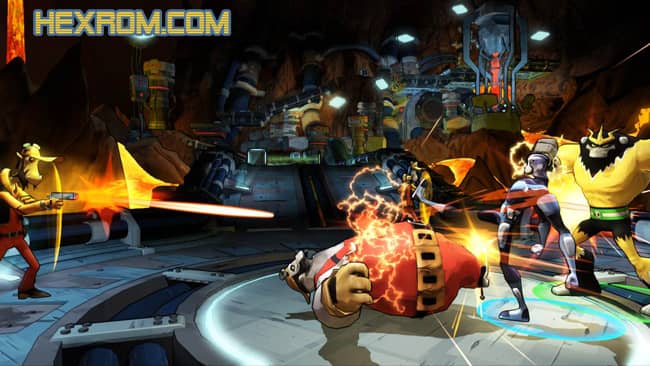 Game Features
The brand new Ben 10 Omniverse TV series features fast-paced action and characters as well as a new storyline.
You can play as both Teen Ben or Young Ben in your first video game.
15 characters to choose from, including new aliens Gravattack and Shocksquatch as well as old favorites like XLR8 or Heatblast.
For Ben's 13 alien forms, upgrade devastating attacks and powerful combination abilities.
7 levels of action set in show-inspired settings such as Undertown's subterranean alien capital and Max's new Plumber base.
Use lethal ranged attacks or punishing melee combinations to pound enemies to the ground.
You can solve puzzles in two periods of time by using actions from the past to fix them in the present…or vice versa!
In boss confrontations, you will face off against new powerful foes!
As the action unfolds, you can see 3D models of characters, environments, and effects in real-time. For a truly immersive experience, activate the 3D screen effect.
The 3DS motion sensor can be used to unlock containers containing valuable collectibles and permanent upgrades.
StreetPass(TM), communication allows you to earn specialized gameplay power-ups! You can increase the damage your character deals and pack explosive hits at the beginning of each level.